This video is a good source of information about the beliefs and practices of the Mormons. My first wife was a Mormon in the reorganized church. I have had missionaries from the Mormon church in my home. When I showed them a photo copy of the original Book of Mormon that was kept in Kirkland Temple ( in Kirkland Ohio near Cleveland) they were livid with rage. That copy stated that Jesus was God Almighty in four places. Joseph Smith later changed his own so called "translation" to state that Jesus was not God. I have never seen more rage that the one man had when I showed this to them. Mormons are very friendly on the outside, but Mormonism is a very dark cult indeed.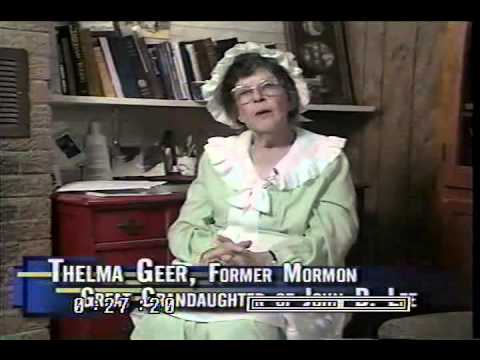 The video is very good on information about the Mormons,but I would state that the Holy Scriptures differs from their prayer in what a person must do to be saved.
Here area few passages that you should read about salvation:
Colossians 1 TLB

20 It was through what his Son did that God cleared a path for everything to come to him—all things in heaven and on earth—for Christ's death on the cross has made peace with God for all by his blood. 21 This includes you who were once so far away from God. You were his enemies and hated him and were separated from him by your evil thoughts and actions, yet now he has brought you back as his friends. 22 He has done this through the death on the cross of his own human body, and now as a result Christ has brought you into the very presence of God, and you are standing there before him with nothing left against you—nothing left that he could even chide you for; 23 the only condition is that you fully believe the Truth, standing in it steadfast and firm, strong in the Lord, convinced of the Good News that Jesus died for you, and never shifting from trusting him to save you.
Of course that means trusting in Jesus to save you and NOTHING else.
Matthew 16 NIV

24 Then Jesus said to his disciples, "Whoever wants to be my disciple must deny themselves and take up their cross and follow me. 25 For whoever wants to save their life will lose it, but whoever loses their life for me will find it. 26 What good will it be for someone to gain the whole world, yet forfeit their soul? Or what can anyone give in exchange for their soul? 27 For the Son of Man is going to come in his Father's glory with his angels, and then he will reward each person according to what they have done.
So one must give their life to Jesus and ask Him to do with it as He pleases instead of us being the King of our life. If one trusts in Jesus to save them, of course they would want Him to be the King of their life instead of themselves.